Welcome To Dr.N.G.P College of Education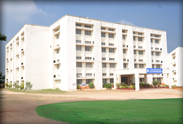 The Kovai Medical Center Research & Educational Trust was instituted in the year 1990 with the goal of rendering quality education and training to the people of India and the world. Over the years, the educational institutions run by the Kovai Medical Center Research & Educational Trust have developed into a force to reckon within the field of education.
The Chairman of the Trust, Dr. Nalla G. Palaniswami is a physician specialized in endocrinology and the Managing Trustee, Dr. Thavamani Palaniswami who is a pediatrician and adolescent care specialist, have wide experience in the field of medicine and education. Having worked in various advanced medical centers & hospitals across the United States of America for almost 20 years, it was the vision to start educational institutions on par with the best in the world, with the latest infrastructural facilities. With the leadership and guidance of Dr. Nalla G. Palaniswami as the Chairman of the Trust, supported by the administrative acumen. Dr. Thavamani D. Palaniswami, Managing Trustee, and the sincere and committed endeavors of the staff, the educational institutions run by the Kovai Medical Center Research & Educational Trust have today grown into postgraduate institutions of international repute.
Reach Us
Dr.N.G.P. College of Education,
Kovai Estate,
Kalapatti Road,
Coimbatore - 641048.
Phone : 0422-2369401
Fax : 0422 2627196
Email : info@drngpeducation.ac.in
Watch by the table mirror, watchcase, watchband, ring opening, dial, pointers, a table
rolex replica
buckle, table, back cover, movement, and other basic components. Table mirror action is to protect the surface (dial). Table mirror material is generally organic glass, sapphire and minerals, etc.. Case role is to protect watches (watch) movement from external dust, dew or shock damage. At the same time to watch with fashionable and attractive appearance. Strap: a belt and a metal chain two. The choice should be
rolex replica
in accordance with watchcase watchband, watchcase, choose what kind of material will choose what kind of watch strap. A situation may be excluded, that is any material watchcase can match with the leather strap, the effect is relatively ideal. Ring mouth locking table mirror, there are two types: A is a fixed type, can provide a beautiful appearance; the second is unidirectional rotation type, which is mainly used in sports watch, as long as the zero pointer is allocated to
breitling replica watches
the minute hand can overlap the computation time.